Meet Orlando Dermatologist Kathleen Judge, M.D.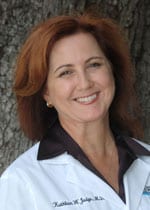 About Dr. Judge
Kathleen W. Judge, MD grew up in New Orleans, Louisiana as one of five siblings. She met her husband in high school and married when she was eighteen. She had two beautiful boys, Shane and Ryan, shortly after. When the boys were getting older she decided that it was time to go back to work and do some good. She had always wanted to be a doctor but did not think it was possible at that point in her life. After trying her hand at several other careers, Dr. Judge and Mr. Judge agreed that the family would work together to achieve her singular goal of becoming a practicing physician. After years of hard work and sacrifice, Dr. Judge's dream came true when she opened her own private practice in 2000. Her family could not be prouder.
Board Certified Dermatologist and Dermatologic Surgeon
Performed over 10,000 surgeries in the last 5 years alone
Possesses extensive experience with pediatric dermatology
Performed thousands of cosmetic procedures
Practicing dermatology for nearly 20 years
Professional Societies and Associations
American Academy of Dermatology
Florida Society of Dermatology and Dermatologic Surgeons
American Society for Laser Medicine and Surgery
Orange County Medical Society
American Society for Dermatologic Society
American Academy of Anti-Aging Medicine
Schedule Your Consultation with Dr. Judge Today!
Call 407.481.2620 to schedule your consultation with Orlando dermatologist Kathleen Judge today!
---
What is a Physician Assistant (PA)?
A Physician Assistant is a health care provider licensed to practice medicine as a member of a healthcare team, under the supervision of a doctor of medicine or osteopathy. PAs enhance the delivery of high quality health care and are trained and qualified to:
Take medical histories
Examine and treat patients
Make diagnoses
Prescribe medications
Counsel patients
Perform minor procedures
At our office, PA's undergo extensive training with Doctor Judge and shadow her for several months in her work as a dermatologist, seeing and following up with hundreds of patients. The only procedure that the PA's do not perform at our Orlando office is surgery. We are able to provide you with a more efficient surgery schedule by having a dedicated provider for surgeries.
PAs are trained in accredited programs which incorporate intensive classroom training and clinical rotations in a variety of medical and surgical specialties. Graduates of accredited PA training programs must pass a national certification examination in order to practice. Supervising physicians and state law determine the scope of a PA's direction.
---