Laser Cosmetic Dermatology
Photofractional therapy: An IPL and ResurFX one, two punch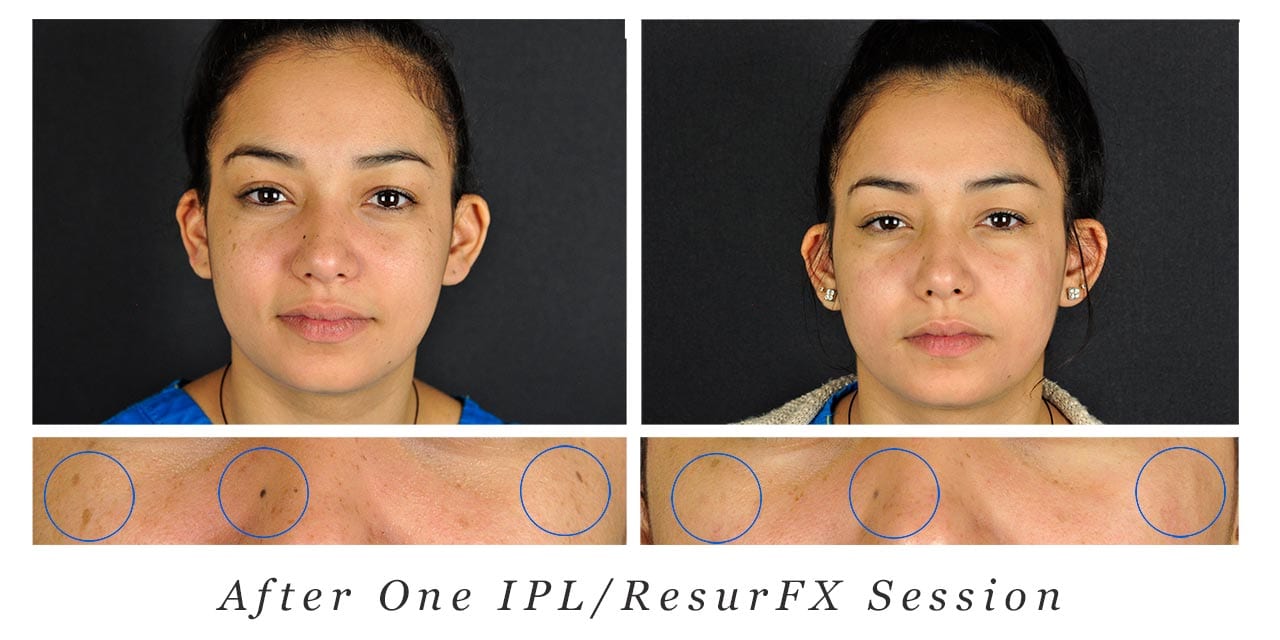 By combining IPL and ResurFX technologies, both skin pigmentation and texture issues can be addressed at the same time. IPL technology removes unwanted pigmentation and blood vessels from the skin, while the ResurFX fractional laser stimulates the production of new collagen and elastic fibers in the deeper layers of the skin.
IPL: For radiant and even skin tone
IPL treatments use Broadband Light (BBL) energy to target the redness, brown spots or discoloration and enlarged blood vessels that develop under the skin's surface. The light energy is absorbed by the target and stimulates a repair process which restores more even skin color and tone.
---
V-Beam: Reduce redness

Pulsed Dye Lasers help to improve facial redness and reduce abnormal facial vessels by delivering intense but gentle bursts of light into the skin. The light is selectively absorbed by the areas of increased redness and enlarged blood vessels and initiates a natural clearing process.
Infini: Stimulate collagen production
The Infini procedure uses microneedles to deliver Radiofrequency (RF) energy deep into the dermis to stimulate collagen production for impressive wrinkle reduction. Infini's precisely targeted delivery of RF energy reduces the thermal damage to surrounding tissue to speed healing times and provide long term results.
UltraPulse Fractional CO2 Laser: Repair fine lines, wrinkles, scarred skin and sun damage
The UltraPulse Fractional CO2 Laser is designed to regenerate the skin, reduce the signs of aging and repair fine lines, wrinkles, scarred skin and sun damage. This fractional CO2 laser stimulates your skin to repair itself. This minimizes downtime and helps increase collagen production so the skin appears tighter, smoother, healthier and more youthful.
Photodynamic Therapy: A targeted repair process
5-Aminolevulinic Acid (ALA) is a substance that naturally occurs in the body. When it is applied topically and allowed to soak into the skin, it is selectively absorbed by sun damaged cells, oil glands, and precancerous actinic keratosis. The ALA is then activated by a light source, either Intense Pulsed Light (IPL), Pulsed Dye Laser (V-Beam), actinic light (BLU-U), or a combination of all three, and a targeted repair process is stimulated.
Gentle YAG: 80% of patients report permanent hair reduction after 4-6 treatments
A handpiece delivers a laser pulse into the targeted areas on your skin, and a controlled amount of therapeutic heat safely and effectively damages the hair follicles. Treatments take anywhere from a few minutes to about an hour, depending on the area being treated.